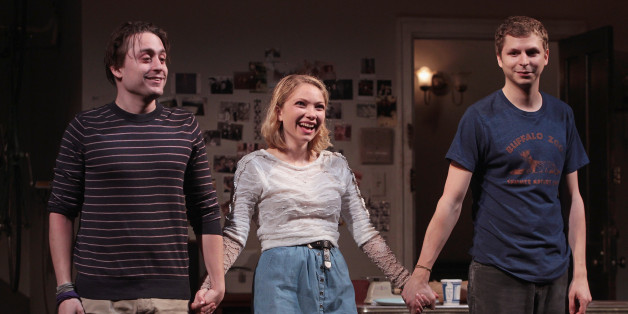 I managed to restrict myself to only one Arrested Development joke during Steppenwolf Theatre Company's production of This is Our Youth, which speaks to how much I liked Kenneth Lonergan's play. Directed by Anna D. Shapiro and starring George Michael Cera, Kieran Culkin, and Tavi Gevinson, the show will move from Chicago to Broadway at the Cort Theatre in Fall 2014.
The show focuses on Warren (played by Cera), who steals $15,000 from his father. (What would Pop Pop think?) Along with his dealer/friend Dennis (played by Culkin), the two scheme to return the money unnoticed by selling cocaine. Warren hopes to use the money and cocaine to attract Jessica (played by Gevinson), a fashion student who loves to argue.
Unfortunately, the acting was somewhat lackluster, which was not exactly unexpected. Generally, actors who primarily work on screen have a tough time transferring to live theatre. Cera's understated abilities on screen did not transfer well to the stage, even in a more intimate arena setup with the audience surrounding the stage. A handful of physical comedy bits surprised me, but the fact that I got to see Michael Cera in a windbreaker in person was the only real draw. Gevinson, a well-known fashion blogger and the founder of Rookie Magazine, fit her character well. With only a handful of small film roles under her belt, however, her bitingly honest performance may have been due to the grace of a good casting director rather than a—pardon the pun—rookie with all-star acting ability. Culkin, as Dennis, gave the best performance by far, delivering Lonergan's witty quips—"You serve brunch. You are a servant to brunch"—hilariously and insightfully.
Ultimately, it was Lonergan's script that I loved the most. Though the play is set 1982, it still rings true about today's youth culture. It was only after several references to Reagan and cocaine that I fully understood this wasn't a typical indictment of the millennial's seeming inability to leave adolescence but rather an indictment of our parents. The script made me laugh out loud, but it also made me scrutinize myself and the culture of materialism present in the 80's and continuing today. Exemplifying the moments of terror that occur when young people go out on their own, This is Our Youth shines a light on the shock of adulthood, not as a critic of today's youth, which is entirely too common, but through the debaucheries of older generations, elucidating that one day, us millennials will grow old, boring, and corrupt as well.